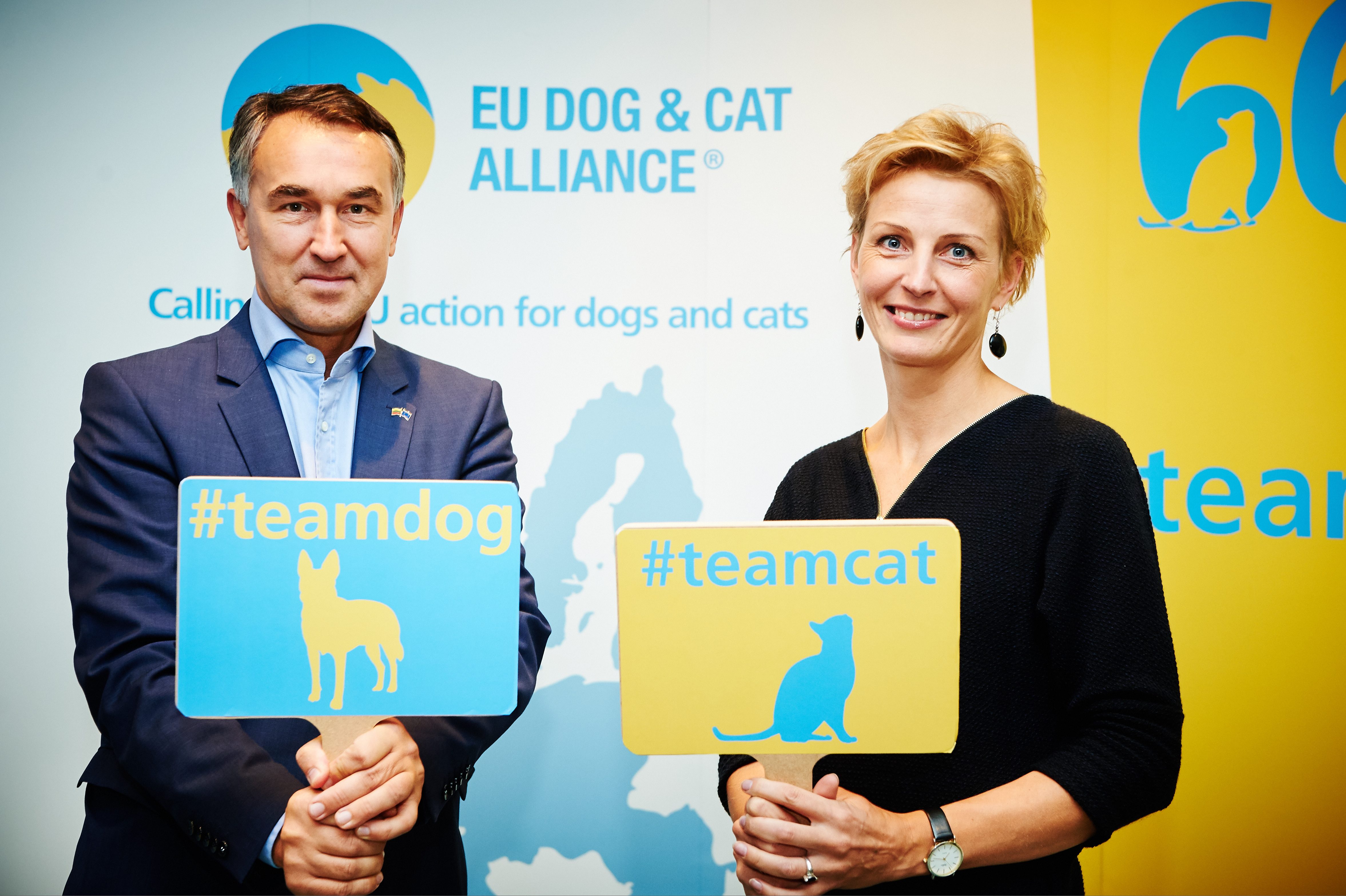 The EU Dog & Cat Alliance held its first event in the European Parliament on the 22nd of September. Throughout the day, members of the Alliance also had in-depth meetings with MEPs.
The event saw over 30 MEPs and 11 dog and cat welfare organisations from across the EU come together to lobby the EU to introduce welfare legislation for dogs and cats, particularly in relation to commercial practices. Currently, national legislation varies greatly across EU member states, with strict legislation in some countries, and very little in others. The situation can have serious consequences for animal welfare, but also for animal health, human health, consumer protection and the functioning of the internal market.
There are an estimated 61 million owned dogs and 66 million owned cats in the EU, but there is very little EU legislation to protect their welfare.
Paula Boyden, chair of the EU Dog & Cat Alliance said:
"We were delighted to see so many MEPs from all across the EU join us to collectively call for EU action to better protect the welfare of dogs and cats. Without legislation to harmonise practices across the EU, the implications will not only continue to affect dogs and cats but also on key areas which the EU has competence to legislate: public health, consumer protection and the functioning of the internal market. We are urging the Commission to act."
The findings of an EU study on the welfare of dogs and cats are expected to be released in November. The EU Dog & Cat Alliance will be working with MEPs to put pressure on the European Commission to take action on the findings. Since the Alliance was launched in 2014, we have already worked with MEPs to table several Parliamentary Questions on dog and cat issues.
At the event, MEPs were asked to choose to have their photograph taken with a Team Dog or Team Cat paddle, to show their support for EU action. At the end of the evening there wasn't a clear winner between Team Dog and Team Cat, suggesting that both dog and cat welfare is important in the eyes of MEPs.
Twitter updates from the event can be seen by following @EUdogsandcats and #EUpetwelfare
The Alliance video which was played at the event can be seen here.