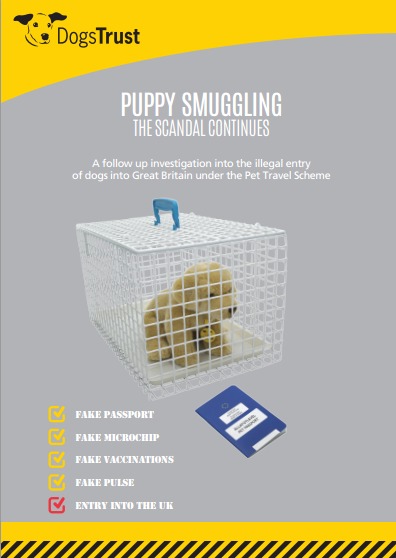 Dogs Trust today (20th July) reveals the findings of a follow-on undercover investigation into the cruel European puppy smuggling trade. Underage and unvaccinated puppies continue to travel illegally from Eastern Europe to other member states, including Great Britain destined to be sold online to unsuspecting members of the public by commercial dealers and breeders.
The charity first highlighted the influx of illegally landed puppies from Eastern Europe in November 2014, following a relaxation of the EU pet travel rules in 2012. These findings were then presented to the European Commission, who heralded a new EU Regulation on pet travel (which came into force on 29th December 2014) as the solution. Dogs Trust had strong suspicions that the changes would not be effective enough - the findings of our second investigation have proven us correct.
The illegal puppy trade continues to boom and the potential risks to human and dog health and welfare remain. Dogs Trust's second undercover investigation has gathered further evidence of corruption from vets and breeders in Lithuania and Romania, and the worrying ease in which commercial transporters can illegally bring puppies across European borders under a scheme designed for pet owners.
The European Commission's Food and Veterinary Office (FVO) is responsible for checking the compliance of EU Member States with EU animal health and welfare legislation. A summary report of FVO audits across 16 EU Member States also identified a number of serious issues with pet animals entering the EU from third countries. In the last 5 years there have been rabies outbreaks in France, Spain and the Netherlands. All of these involved dogs or cats being imported illegally. The most recent case was in France in May 2015. A dog was imported illegally (minimum age not reached, no vaccination and no identification) into France from Hungary in late December 2014. Despite surveillance imposed by the French authorities the dog's owners then travelled with their dog to Algeria, where it contracted rabies, and then returned to France again without complying with the legislation.
Claire Calder, European Policy Advisor comments:
"Dogs Trust presented the European Commission, as well as national governments across the EU, with evidence of the illegal puppy trade last year and we are disappointed to find that the situation across the EU does not appear to have improved. We have provided detailed recommendations which if implemented, would act as a great step forward in curbing the problem. As our evidence demonstrates the amendments to the EU pet travel rules in December 2014 have not proved to be effective enough in the UK, we urge the Commission and EU Member States to take the findings of our two investigations seriously. The implications of the puppy smuggling trade are huge; for consumers who are being duped and the puppies that suffer horribly.'
The full report can be downloaded here: https://www.dogstrust.org.uk/puppysmuggling/